3 consejos para evaluar sus consejos
25 de May de 2021 by llamosa7
2
Fuente: Adobe/Ascannio Ángel Zhong, Profesor Principal de Finanzas, Universidad RMIT._____ Queenie Tan está llena de asesoramiento financiero. Ya se trate de tips de fecha baratas, comprar muebles, ahorrar su primer USD 100,000, hacer su declaración de impuestos o invertir en Dogecoin, aparentemente no hay ningún tema que la mujer de Sydney de 24 años no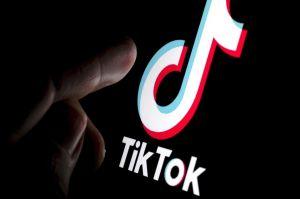 Ángel Zhong, Profesor Principal de Finanzas, Universidad RMIT.
_____
Queenie Tan está llena de asesoramiento financiero. Ya se trate de tips de fecha baratas, comprar muebles, ahorrar su primer USD 100,000, hacer su declaración de impuestos o invertir en Dogecoin, aparentemente no hay ningún tema que la mujer de Sydney de 24 años no pueda abordar con confianza.
Sus publicaciones y vídeos han ganado sus 15.000 seguidores en Instagram y 42.000 seguidores en TikTok. Su explicación sobre las reglas fiscales australianas para las ganancias de money de criptomonedas ha sido vista más de 360.000 veces. Sus consejos para los compradores de primera vivienda más de 400.000 veces. Ambos vídeos duran menos de un minuto.
Las calificaciones de Queenie como experta financiera son escasas. Ha trabajado como gerente de internet marketing. Dice que acumuló cerca de 350.000 AUD en activos en cinco años. Eso, además de ser fotogénico y vivaz, es más que suficiente para unirse a las crecientes filas de "finfluencers" – creadores de contenido de redes sociales construyendo una audiencia a través de la dispensación de consejos financieros.
Convertirse en un finfluencer puede ser altamente lucrativo. En TikTok el hashtag #FinTok ha sido visto más de 340 millones de veces. Entre la élite más importante de FinTok está el californiano Stephen Chen, un ex profesor de matemáticas convertido en "entrenador de libertad financiera" con cerca de 780.000 seguidores. Otra es Sara Rosalía, una adolescente canadiense que como "Sara Finanzas" ha atraído a más de 670.000 seguidores.
Los aspirantes a influencers también están encontrando contenido financiero una fórmula exitosa en Youtube, Twitter y Reddit.
Pero por más lucrativa que sea esta tendencia para aquellos que llegan a la cima del árbol del dinero finfluencer, las ganancias para los seguidores son mucho menos seguras. Es el salvaje oeste de la información financiera, con pocos de los controles y equilibrios que regulan otras áreas de asesoramiento financiero.
Impulsar los frenzies comerciales
La plataforma criptográfica Paxful analizó 1.212 vídeos de una muestra de 50 cuentas populares de TikTok centradas en las finanzas en 2020. Calificó el 14% de ellos como engañosos. Esto incluyó, sin revelaciones ni renuncias, alentar a los usuarios a comprar activos específicos e implicando que una inversión garantizaría un beneficio.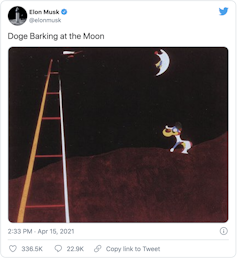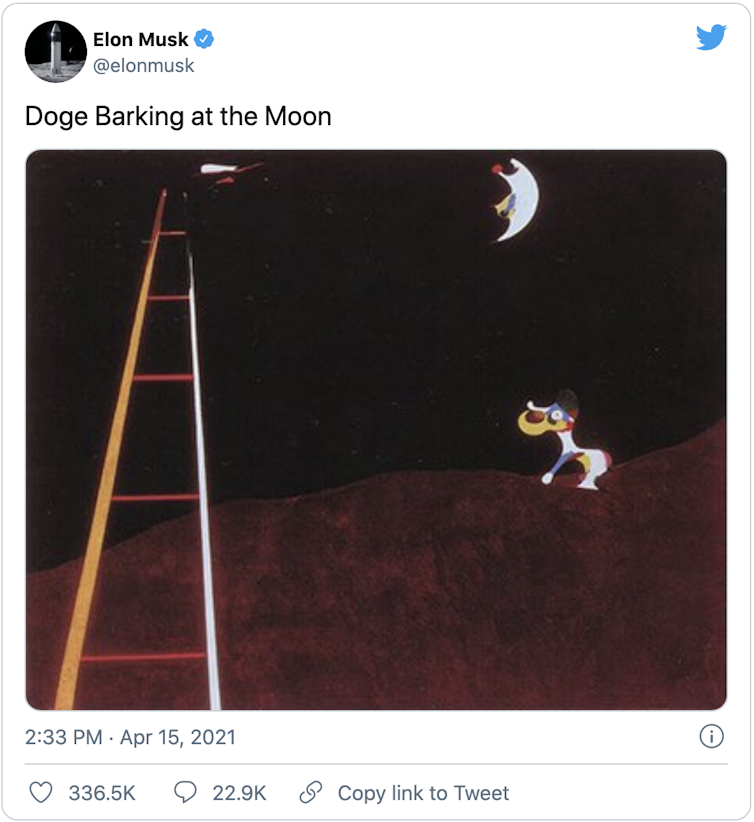 En los últimos meses hemos visto lo influyentes que pueden ser las redes sociales para alentar a la gente a comprar o vender acciones particulares.
Estaba el frenesí bursátil de Gamestop, en el que las acciones de un minorista de videojuegos aumentaron de USD 19 a USD 347 en menos de dos semanas, impulsadas por Redditors y ayudadas por tweets de Elon Musk.
El twitter de Musk también ha sido basic para aumentar el precio del dogecoin y enviar el precio del bitcoin tanto hacia arriba como hacia abajo.
Un influencer de las redes sociales en su mejor momento construirá una audiencia a través de un sólido asesoramiento financiero. Pero también pueden construir una audiencia haciendo afirmaciones sensacionales sobre sus consejos, prometiendo enormes retornos, e incluso empujando productos dud.
---
Leer más:
GameStop: cómo Redditors jugó fondos de cobertura por miles de millones (y lo que podría venir después)


---
Otros consejos financieros están regulados
La Comisión Australiana de Valores e Inversiones dice que las quejas sobre el asesoramiento financiero sin licencia, incluso a través de las redes sociales, han estado aumentando desde marzo de 2020, el comienzo de la pandemia COVID-19. El regulador corporativo ha expresado su preocupación por este tipo de asesoramiento porque los consumidores carecen de protección lawful.
En Australia (como en otros lugares), existen leyes que regulan la conducta de quienes dirigen negocios de asesoramiento financiero. Los asesores deben tener licencia. Promocionarse como asesor financiero sin licencia puede llevar a una multa de hasta 133.200 AUD y a una pena de prisión de hasta cinco años.
Calificar para una licencia requiere completar cursos y aprobar exámenes, incluso sobre ética.
Para convertirse en un finfluencer, por otro lado, no requiere ningún tipo de experiencia específica. A lo sumo, los creadores de contenido están obligados por normas generales contra afirmaciones falsas y engañosas, directrices de plataforma y códigos de práctica de advertising que requieren que se divulguen asociaciones pagadas.
¿Como el tipo del pub?
A pesar de esto, el gobierno australiano ha señalado que no ve la necesidad de hacer más para common a los finfluencers. La ministra federal de Servicios Financieros y Economía Electronic, Jane Hume, los describió la semana pasada como "una parte inevitable de un ecosistema financiero". Ella explicó:
El influencer TikTok spruiking Nokia no es tan diferente al tipo en el pub que quiere contarles todo sobre la gran compañía en la que acaba de invertir, pero con una voz mucho más fuerte.
"Parte de la información en los foros en línea sería mala, dijo, "pero parte de ella será buena, y mucho de esto involucrará mejor a las generaciones más jóvenes en los mercados financieros y de inversión".
Estas son cosas bastante simplistas para un ministro a cargo de la economía electronic.
El tipo del pub, por un lado, no hace dinero con su charla.
Los influencers de las redes sociales sí. Tomemos Youtube como ejemplo. Si pueden atraer a una audiencia lo suficientemente grande, los creadores de contenido pueden ganar dinero a través de anuncios, enlaces afiliados, contenido patrocinado y venta de mercancía de marca. Potencialmente pueden beneficiarse promocionando las acciones que poseen o se les paga para promover algún producto.
Tres consejos para evaluar a los finfluencers
Esto no quiere decir que todos los finfluencers sean sospechosos. Sus consejos, como los consejos de Queenie Tan sobre el ahorro de dinero, pueden ser muy sensatos. No serían populares si no hubiera una demanda de información financiera accesible que en sí misma no cueste una fortuna.
Así que aquí están mis tres consejos free of charge, si te gusta #fintok, para evaluar la credibilidad de un influencer y sus consejos.
---
Leer más:
Desde tulipanes y scrips hasta bitcoin y acciones de memes, cómo el acto de especular se convirtió en una manía financiera


---
En primer lugar, no asumas que un gran número de seguidores hace que alguien valga la pena seguirlo. La popularidad no equivale a credibilidad. Mira sus antecedentes y calificaciones educativas. No necesitas un título para enriquecerte, pero debería haber algún tipo de evidencia para que sus afirmaciones sean alguien que valga la pena escuchar.
Segundo, ¿por qué comparten sus secretos contigo gratis? Al filósofo chino Lao-tzu se le atribuye haber dicho: "Los que saben no lo dicen". Esto es tan cierto ahora como en el siglo VI. Si un influencer realmente tiene alguna estrategia para vencer al mercado, ¿por qué están en las redes sociales contándole a todo el mundo al respecto? Cualquier persona que promociona un inventory o producto o estrategia en particular debe ser tratada con sospecha.
Tercero, desconfíe de que alguien promueva un system de hacerse rico y rápido. Sí, es posible obtener enormes rendimientos de una inversión inicial. Pero esas ganancias son la excepción más que la regla.
Cualquier influencer que te diga que emules sus secretos del éxito probablemente no te esté diciendo toda la verdad a menos que también te estén aconsejando que pruebes tu suerte como finfluencer.

Este artículo se vuelve a publicar de The Conversation bajo una licencia resourceful commons. Lea el artículo first.
____
Aprende más:
– Buterin: 'La influencia de Elon Musk en los precios criptográficos no durará para siempre'
– ¿Wall Avenue Giants está jugando el juego 'Make-Bitcoin-Cheaper' de nuevo?
– GameStop y Dogecoin muestran cómo los memes pueden mover los mercados
– Son oleadas de estilo GameStop en cripto cualquier diferente de bombas antiguas & volcados?
– Misinfo sobre la entrada de Gemini Bitcoin recuerda a DYOR